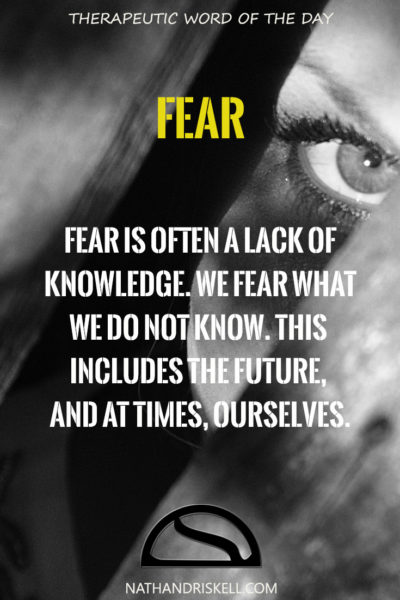 "Fear is often a lack of knowledge. We fear what we do not know. This includes the future, and at times, ourselves."
While it may sound strange, many people sabotage themselves out of fear. Most people fear the unknown and assume it to be negative. As a result, the future is often viewed as something to be feared. Think about it. When did you last become afraid to work towards a promotion, due to the unknown nature of the job? Would it not be easier to keep the one you have? Or how about the last time you asked someone out or did not because of fear?
Sometimes we fear success just as much as failure. Success often means higher expectations and more work. Often people do not like added pressure. When I was a teenager worked at a hardware store in the garden section. I hated my job as I sat in 120-degree heat for 8 hours a day. There was one bright spot, my coworker Scott. He was a great guy who was helpful and kind. He helped the customers and other employees. He was knowledgeable and organized. One day I asked Scott why he was not the manager, as he would have made a good one. His response was damning. He said he was afraid of all the responsibility and instead chooses to do what he knows. His answer angered me as he would have made a good manager, but his fear stopped him. I realized I would be just like Scott if I did not work to overcome my fears.
The future is scary. The unknown usually is. We may take a risk and it not work out. We may take a job that is bad for us. We may pick the wrong person to be in a relationship with. But if we do not try we do not learn. Fear is a healthy part of life. Don't let it stop you from living it.
Hello, my name is Nathan Driskell and I am a Licensed Professional Counselor – Supervisor in the Houston / Cypress area specializing in the treatment of Internet Addiction & Asperger's / Autism. I work with children, adolescents, adults, couples & families.

You can reach me at my website or call me directly at 832-559-3520 if you have any questions. Thank You!
Latest posts by Nathan Driskell (see all)