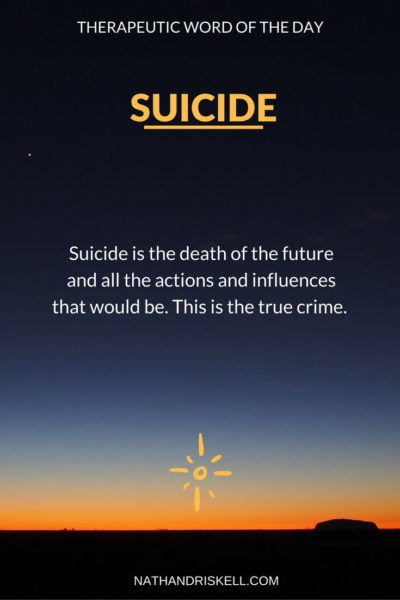 "Suicide is the death of the future and all the actions and influences that would be. This is the true crime."
Suicide is not something to ever ignore. Most of the time when we hear someone say they want to die or want to kill themselves we ignore it. To be honest, most of us have said this at one time or another. Often this is due to an over-emotional response that often fades quickly. This would not count as suicidal tendencies or ideation. At times, however, people can start to consider suicide as something of a solution. When suicidal thoughts begin to turn into plans, help is needed immediately.
We often view suicide as a crime to the family and society, as now everyone has to suffer knowing the person is no longer around. The real crime affects the future and all the actions and influences the person would have had if they had not ended their life. Out of the people who commit suicide, at least, some would have gone on to do amazing things. As the person is no longer around, these actions will never happen. This is why, to me, suicide is the worst action one can commit. They have robbed the world of a gift, themselves.
Hello, my name is Nathan Driskell and I am a Licensed Professional Counselor – Supervisor in the Houston / Cypress area specializing in the treatment of Internet Addiction & Asperger's / Autism. I work with children, adolescents, adults, couples & families.

You can reach me at my website or call me directly at 832-559-3520 if you have any questions. Thank You!
Latest posts by Nathan Driskell (see all)