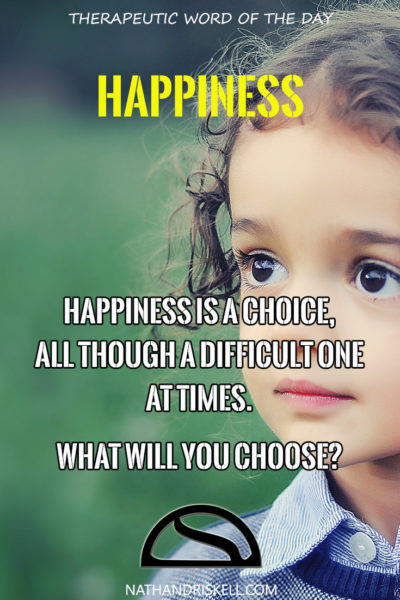 Beginning today, I am going to create a Therapeutic Word of the Day List. Similar to other words of the day lists, my list will take a word and give a therapeutic, helpful message. I plan to do this every day for the next year.
Happiness is a difficult concept to master. At times, we base our happiness on the events that happen to us in life. If negative events happen, we often choose not to be happy, and vise-verse. In truth, we have the power to be happy even in difficult situations. This is not an easy choice and can be extremely difficult.
If you are in a difficult time in your life, work for at least a small part of your day to be happy. Focus on positive things in your life, and things that have made you happy in the past. This effort alone could make your day better and easier to handle. If you want for life to be perfect before you are happy, you will never be.
Hello, my name is Nathan Driskell and I am a Licensed Professional Counselor – Supervisor in the Houston / Cypress area specializing in the treatment of Internet Addiction & Asperger's / Autism. I work with children, adolescents, adults, couples & families.

You can reach me at my website or call me directly at 832-559-3520 if you have any questions. Thank You!
Latest posts by Nathan Driskell (see all)