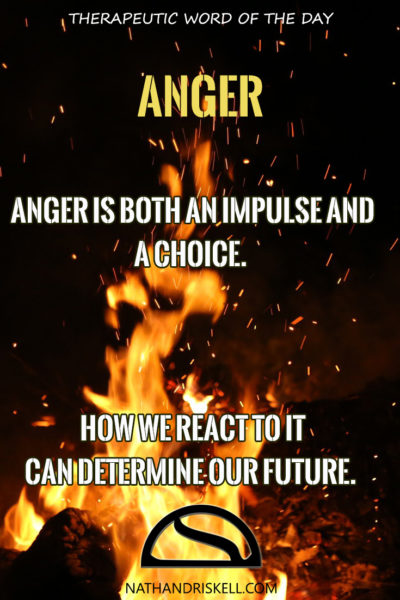 "Anger is both an impulse and a choice. How we react to it can determine our future."
Anger is tricky, as it is often seen as an impulse one cannot control. I often hear the phrase "He made me angry" and have used this phrase myself. Is it an impulse one cannot control, or a choice? In truth, it is both. The initial flash of anger when something happens is an impulse. If someone were to slap me in the face, I would instantly become angry. I would not have time to process if I should be angry or not. The anger would be there, ready for use.
At this point, I can choose what to do with the anger. I can use it as a fuel for a confrontation, or I can choose to let it go. Sometimes anger can be helpful and healthy. Other times it can be destructive. The decision is what is critical. I remember a time years ago a patient at a hospital slapped me in the face. My first impulse was blinding anger. I wanted to not just slap him back but punch him in the face. As he was a patient, this cannot be done. The anger was so intense I started to shake. I realized I had one choice, I needed to leave the situation before I did something foolish. I called on staff to help me and left the room once the other patients were safe. I spent the next half hour cooling off, as I was in no mood to be around anyone.
Anger will be present, it is the choice you make when angry that matters.
Hello, my name is Nathan Driskell and I am a Licensed Professional Counselor – Supervisor in the Houston / Cypress area specializing in the treatment of Internet Addiction & Asperger's / Autism. I work with children, adolescents, adults, couples & families.

You can reach me at my website or call me directly at 832-559-3520 if you have any questions. Thank You!
Latest posts by Nathan Driskell (see all)