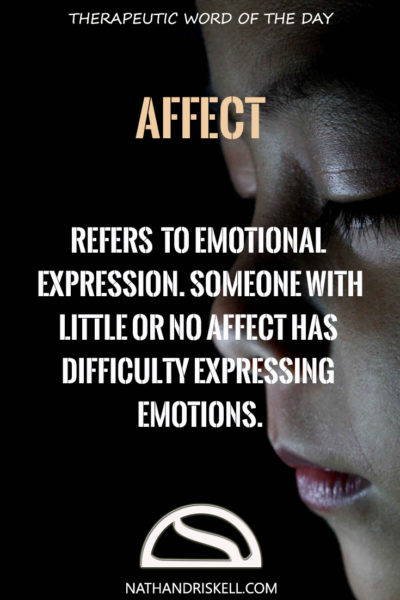 "Refers to emotional expression. Someone with little or no affect has difficulty expressing emotions."
It is easy to confuse affect with effect. Effect is the result of an action while affect is an emotional expression. A common symptom of Depression and Schizophrenia is a lack of emotional expression. Emotions can be blunted or even completely flat, meaning emotions are not being felt. This can result in a zombie or robotic state.
Affect commonly refers to the lack of emotion, especially in the face. Non-verbal communication is a primary source of communication. For someone with a flat affect, it is difficult to determine what they are thinking or feeling. People with a flat affect are thinking, and are feeling, however, they are not expressing these feelings.
If you notice someone in your life who is showing a lack of emotional expression, this could be a sign of a serious problem. Talking to them, gently, about what you see can help them to get help. Often many do not get treatment for mental conditions for years and live with their suffering. Most consider their suffering normal or have no idea on how to alleviate it. Be calm, considerate, and compassionate, and it can go a long way to helping someone who is suffering.
Hello, my name is Nathan Driskell and I am a Licensed Professional Counselor – Supervisor in the Houston / Cypress area specializing in the treatment of Internet Addiction & Asperger's / Autism. I work with children, adolescents, adults, couples & families.

You can reach me at my website or call me directly at 832-559-3520 if you have any questions. Thank You!
Latest posts by Nathan Driskell (see all)